We specialise in creating software programs that do exactly what you need. They enable you to automate your business.
Can't find a ready made solution? We'll build it for you. Whether it's a small Access based system that one of your departments requires or a web based one so that people in all your offices can use, ask us what can be done.
We're based in Northampton so we're near Milton Keynes, but a lot of the work is done off site so it's not necessary for us to be local to you.
For our web based solutions we usually use Microsoft asp.net and SQL Server. (Don't worry if that doesn't mean anything to you though!)
A marketing application can enable you to keep customers contact information up to date, enable you to select customers to send marketing literature to, generate labels, monitor their responses, create analysis reports.

How about incorporating a postcode lookup system to ensure you have their correct details (and save you some typing!)
A Customer Complaints database could enable you to really fix those problems in your company.
Find out which customers need extra attention from your sales staff!
Which of your products really cause the most problems?
How long does it take you to close a complaint?
A Repairs Tracking System could enable you to generate professional looking estimates, dispatch notes, and invoices for repairs to products that you carry out.
Storing information in a database enables you to send out reminders about servicing requirements.
You could have the system keep track of your stock of parts also.

A more specialised application may be what you require:
a program to monitor your factory's output and provide analysis of efficiency, costs and management
a system to keep track of complex quotes you make
or a system to replace your collection of huge spreadsheets!
How about having information emailed without you printing or saving it first?
We have a huge amount of real world experience in this field. Perhaps we could adapt one of our existing products for you? It might save you some money!
Perhaps you need to automate your working with your accounts system? We have experience working with Sage and Pegasus Opera
---

enquiries@blackmanassociates.co.uk
Based in Bedfordshire in the UK and working with companies worldwide.
asp.net developer
Access developer
Excel developer
VBA developer
Web developer
Database developer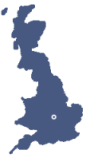 Northampton
Milton Keynes
Hertfordshire
Buckinghamshire
Bedfordshire
Birmingham
UK Wide
Worldwide
© 2023 - Blackman Associates Ltd.